Suit #4

This Suit "The Rope Fringe"was widely used by Elvis in the 1970's. As an example while appearing before 13,300 people at the Veteran Memorial Coliseum, Phoenix, Arizona,  on September, 9th  1970. He had not toured since October 1957. After the success of those first three Las Vegas seasons, it was decided that he would go back on the road again, and re-establish his ties with a wider public ...It is a white jumpsuit with white fringe with multicolored beads.The macramé belt also has fringe and beads matching the suit.

     Suit #5

"Black Rope Fringe" This performance suit to my knowledge was never worn in an Elvis Concert, but was  something to consider over the white fringe, and is striking under the stage lights! This Costume has a suede look to the fabric, and shiny gold beads on the fringe. The Belt is a  macramé belt with gold shiny beaded fringe that matches the suit. This suit moves from the fringe and belt.  Very cool Look for the King.

Suit #6

This suit "The Owl" was a favorite of Elvis's many jumpsuits. Elvis wore the same suit during "Elvis on Tour" in 1972 and can be seen on film commenting about the owl suit. Rarely worn and very beautiful. A royal blue caped jumpsuit. It is decorated with silver stars in a starburst design. The Belt is a dark blue with silver stars ,chains, and owl heads. Both the cape and the leg inserts are done in white satin.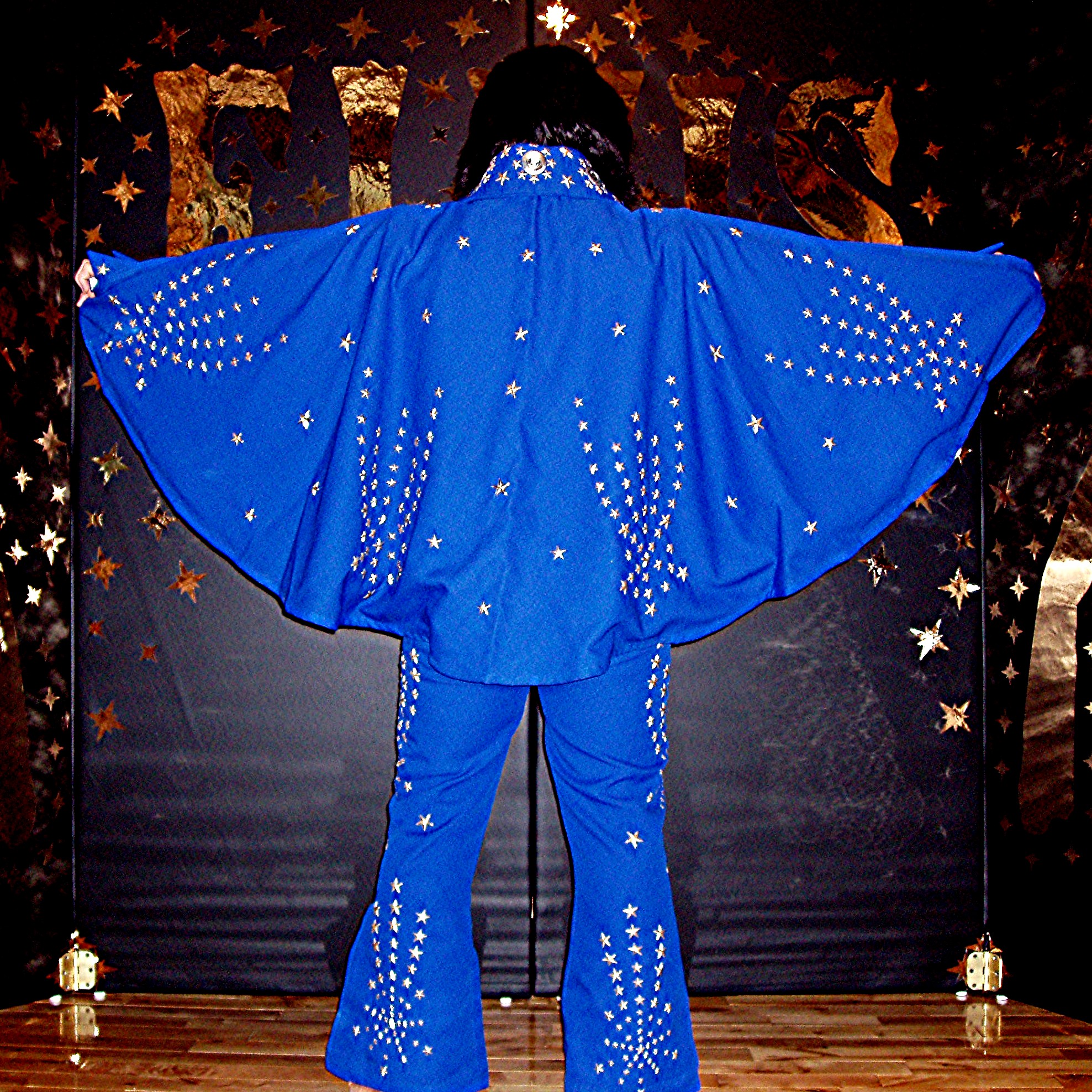 Suit #11

Aloha from Hawaii was broadcast live via satellite around the world on January 14, 1973. Over 1 Billion people around the world watched. It was the first-ever such performance to be broadcast live via satellite! Here is another Elvis Fact for you! Presley taped a January 12 rehearsal concert as a fail-safe in case anything went wrong with the satellite broadcast. The "American Eagle" or the Aloha from Hawaii suit,  is designed  to the suit worn by Elvis during this concert . It is a white jumpsuit with red, white, and blue gems. It is also decorated with gold faceted stars. The Eagle design on the cape is designed in the same colored gems, and stars. The cape and the leg inserts are in red and blue satin.

This outfit is what is called the "Puffy Sleeve Era" in the 70's. This is more of a casual look for the King. This look is something you might have seen Elvis wearing at home at Graceland, around town, or during a rehearsal getting ready for a concert. Black Polyester pants also typical of the 70's, and a replication Gold belt  awarded to Elvis for breaking the attendance record at the International Hotel in Las Vegas, finish the casual Elvis appearance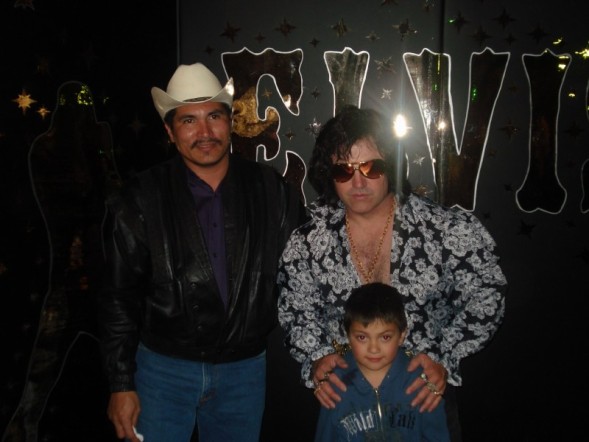 On June 27,1968 after 7 years of making movies Elvis  makes his comeback to the Live performance. This first show was the "1968 Comeback special" Prior to this, His last live concert had been at the Bloch Arena in Pearl Harbor, Hawaii, on March 25, 1961. This Leather suit with leather wrist bands also features the Signature high collar which became his trademark for the elaborate  Jumpsuit era to follow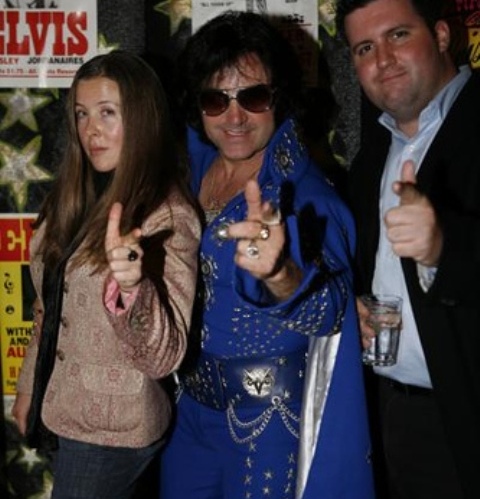 Suit  #1

You want a more 50's Elvis? Then this is the look you want! Here is a little Elvis fact for you! In the 1950s Elvis wore typically African-American clothes that he purchased at Lansky's on Beale Street in Memphis. This Gold lame jacket, black shirt, black baggy pants, and black & white two tone shoes or saddle shoes, was an outfit worn by Elvis in the  Early years in 1957.

                                                It was definitely a unique look for the time.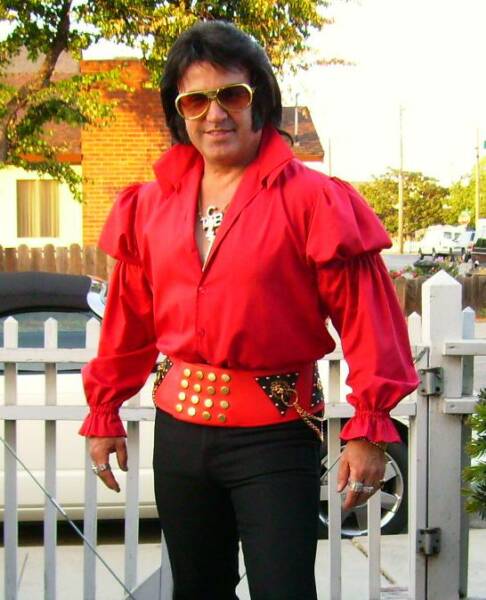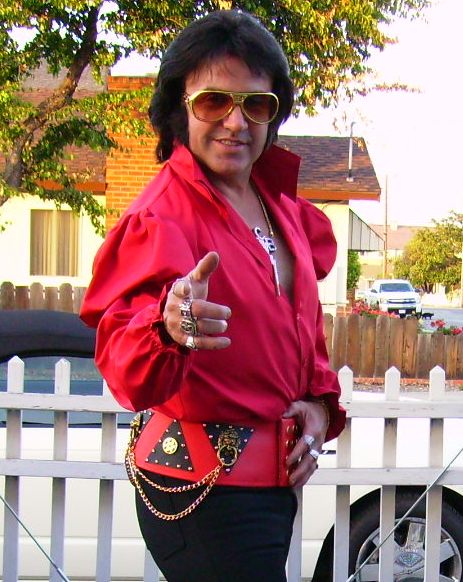 Elvis wore his Red puffed-sleeve shirt & belt, during the That's the way it is Tour rehearsal in 1970: Red puffed-sleeve shirt, black polyester Bell bottom pants, red/black leather studded Lyon belt with chains. An ensemble featured in the on-stage rehearsal segment of the concert film Elvis, That's The Way It Is by MGM, 1970 considered to be a up close look into the life of the King.            It is a Flashy Casual but very cool look.

Suit #9

During his fall tour in 1972 Elvis wore a bright red jumpsuit on stage. The costume quickly became a fan favorite and one of his most famous stage costumes. Fans began referring to it as the "Burning Love" jumpsuit. Also, the song "Burning Love" had been a recent hit for Elvis, and he included it in his song selection while on tour that year. There was Confusion about the "Burning Love" jumpsuit because he wore a white jumpsuit and at the Madison Square Garden engagement, and it was given the same name. Elvis also appeared in the white suit on the cover of the album Burning Love which is why it was christened "Burning Love." Elvis eventually donated the red burning love suit or the red matador as it is also called to the National Cerebral Palsy Telethon in 1972. In October 1995, the suit sold at a Las Vegas auction for a record $107,000. WOW!  The Red Burning Love jumpsuit has a unique history and is also very impressive jumpsuit to behold.

Suit # 10

The Black Pyramid or Black Butterfly jumpsuit was originally, designed by Bill Belew, in 1972. The sequined black and gold jumpsuit and cape is a beautiful addition to the Jumpsuit options and can be worn with the traditional black butterfly belt or the Gold World Champion Attendance Record belt awarded to Elvis from the international hotel for breaking all the attendance records. I love this period in Elvis's career, where he was just coming off the 68 Special, and he Dominated Vegas with his brand new acts spring boarding his career in the city that never sleeps! Viva Las Vegas!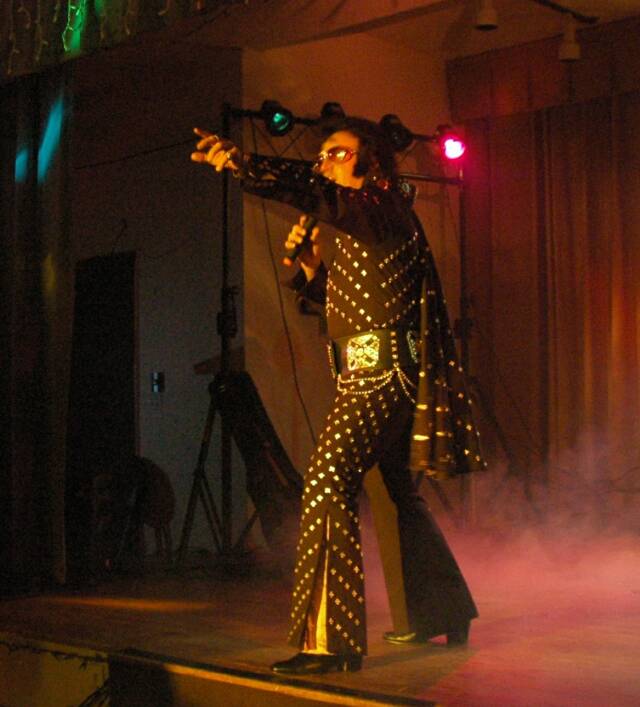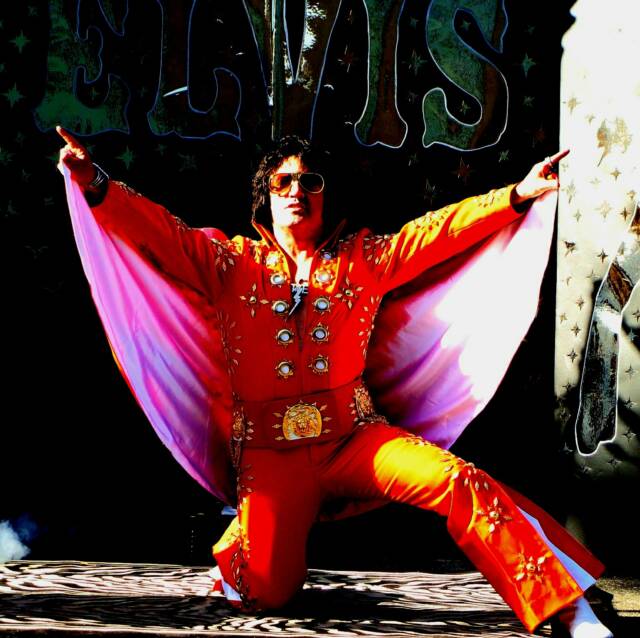 You have 16 suit options to consider for your Elvis appearance!

Select your option to be worn by Bay Area Elvis Impersonator Rick Torres

Suit #12

"The Aqua Blue Vine" made its debut during Elvis' 1973 Summer Festival August/September in Las Vegas. On the suit (front, back, arms, legs and collar) is a flower like pattern made out of turquoise stones. Between these flower runs a pattern of gold nails. This suit was also made popular in the movie released in 2001 called 3000 miles to Graceland when it was worn by actor Kurt Russell. If you haven't seen it you should check it out! Great movie!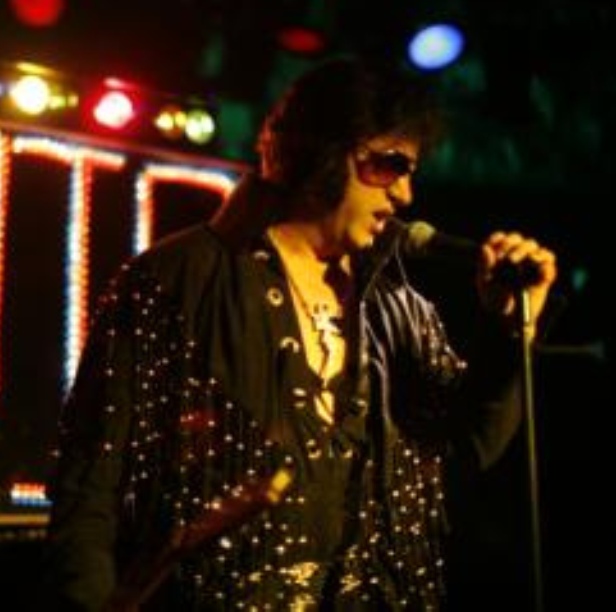 Suit #3

The 1969 Las Vegas Suit...This was a long coat 2 piece suit made for Elvis in 1969. He wore it to a press conference announcing his live concert shows commencing at the newly built International Hotel in Vegas Aug 12th 1969. This suit is fashioned after the many Jumpsuits to follow with the split sleeve and high collar. Elvis was worried whether or not anyone would come see him play, it had been 9 years since his last live performance.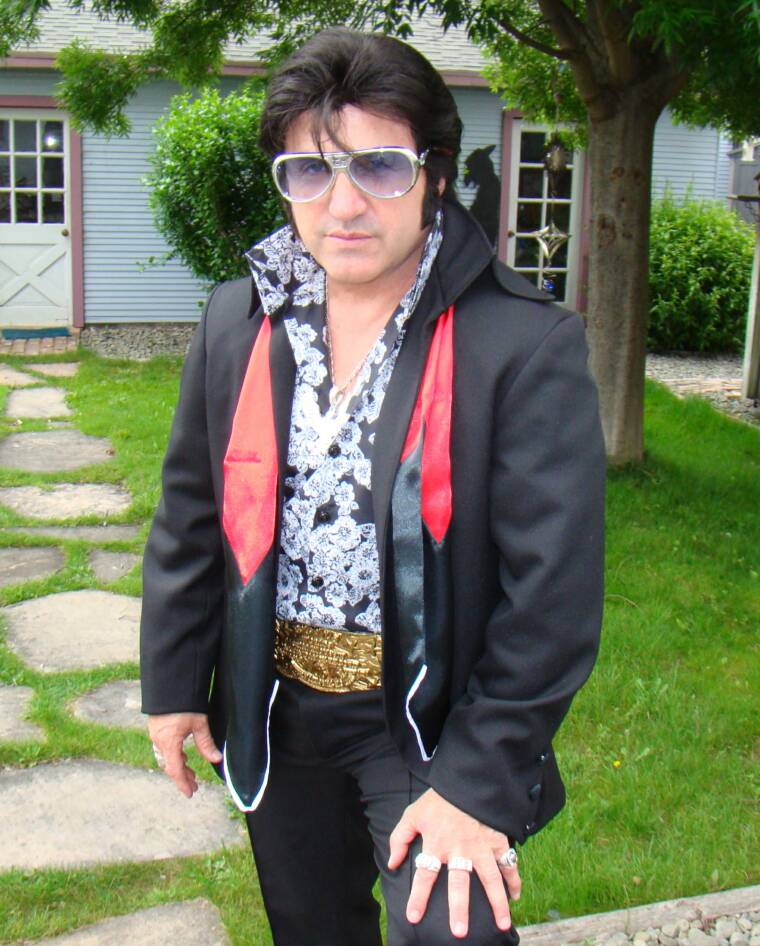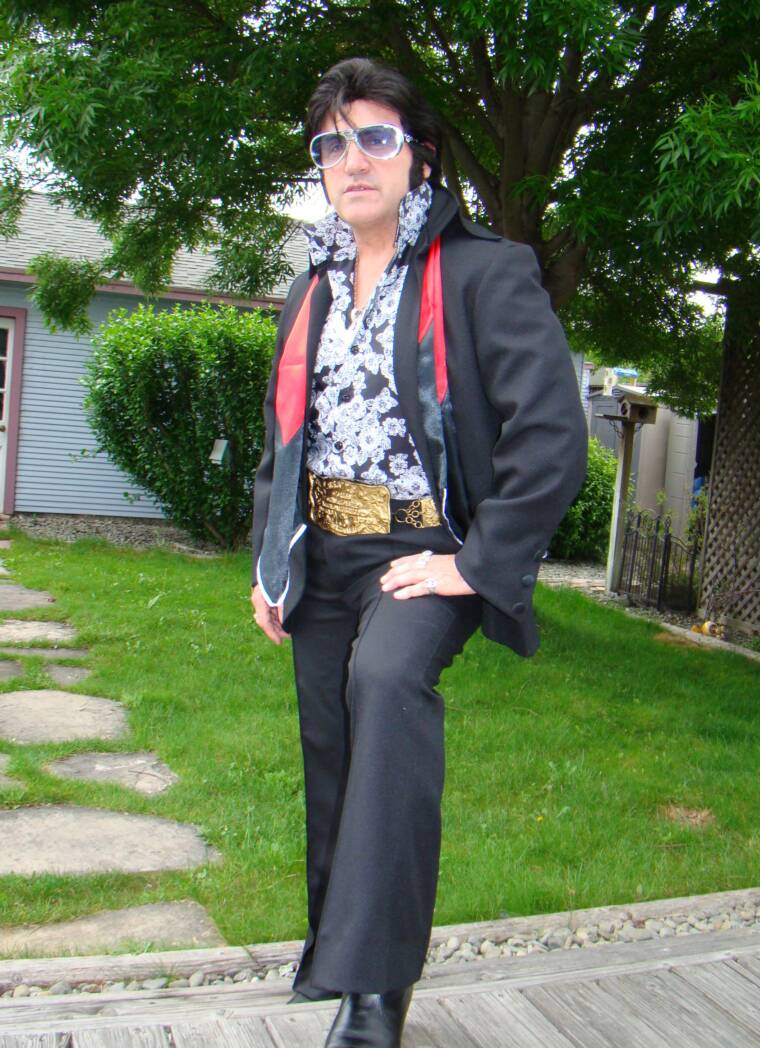 Bay Area Elvis Impersonator Rick Torres is the leading Elvis Tribute Artist, and also 2008 Rising Star Entertainer of the year performing more shows than any Elvis impersonator in North America! Bay area Elvis impersonator Rick Torres is the #1 for Bay area Singing Telegrams, Elvis Tribute, and Elvis appearances. Bay area Elvis Impersonator Rick Torres Performs, Singing Telegrams, Bay area Elvis appearances, Elvis Entertainment, Bachelorette parties, Corporate Events, Birthday parties, anniversaries, Casino Nights, Bay Area Elvis Wedding Officiate, Bay Area Ceremony Services, Bay Area D.J. services, and Corporate D.J. services, Rick Torres is available for Bay Area Elvis wedding ceremonies, as well. Serving the Greater Bay Area in these various cities and beyond!  San Jose, San Martin, Morgan Hill, Gilroy, Hollister, San Luis Obisbo, Pismo Beach, Monterey, Carmel and Carmel Valley, Seaside, Santa Barbara, Santa Clara, Campbell, Sunnyvale, Los Altos, Palo Alto, , Redwood City, San Mateo, Half Moon Bay, Burlingame, So. San Francisco, San Francisco, San Rafael, Petaluma, Santa Rosa, Milpitas,  Fremont, Hayward, San Leandro, San Lorenzo, Hayward, Oakland, Berkley, El Cerrito, Hercules, Pinole, Livermore, San Ramon, Pleasanton, Danville, Black Hawk, Alamo, Walnut Creek, Concord, Clayton, Pittsburg, Antioch, Oakley, Brentwood, Stockton, Vallejo, American Canyon, Napa, Sonoma, Cordelia, Vacaville,  Davis, Sacramento and surrounding cities, Lathrop, Manteca, Modesto, Ceres, Escalon, Modesto, Turlock, Visalia, Bakersfield, and Fresno.

  Also any cities in the following counties:

Santa Clara County, Santa Cruz County, San Benito County, Monterey County, Madera County, Fresno County, Merced County, Alameda County, San Mateo County, San Francisco County, Contra Costa County , Solano County , Marin County, Humboldt County, Lake County, Napa County, Sacramento County , El Dorado County,  Calaveras County, Stanislaus County, Sonoma County , Yuba County, Yolo County, Tuolumne County,

and San Joaquin County




Suit #13

"The Concha suit" is one of Elvis' most famous suits worn and immortalized in the movie "Elvis That's The Way It Is" concert/documentary made by MGM released on November 11, 1970. The film documents Elvis' Summer Festival in Las Vegas during August 1970. It was his first non-dramatic film since the beginning his movie career in 1956, and the film gives us a clear view of Presley's return to live performances after years of making movies. Although some was filmed on the lots of MGM most of the footage takes place onstage at the International Hotel in Las Vegas. "The Concha Suit" originates from the Mexican word for metal ring hence the ring design on the suit. Conches are also intergraded on the macramé belt. Very post 60's look with the belt.

ext.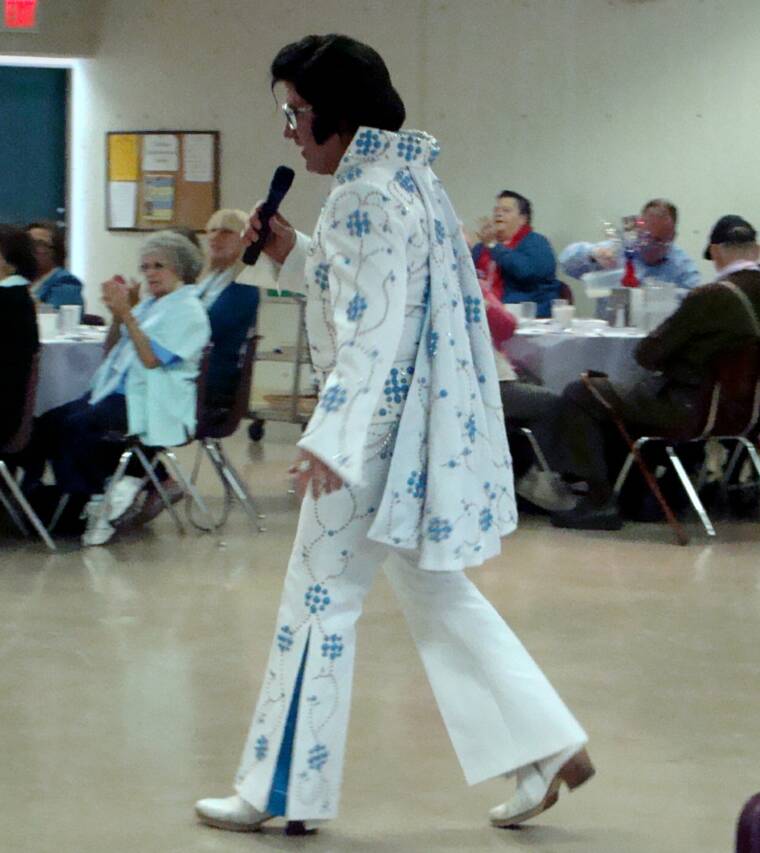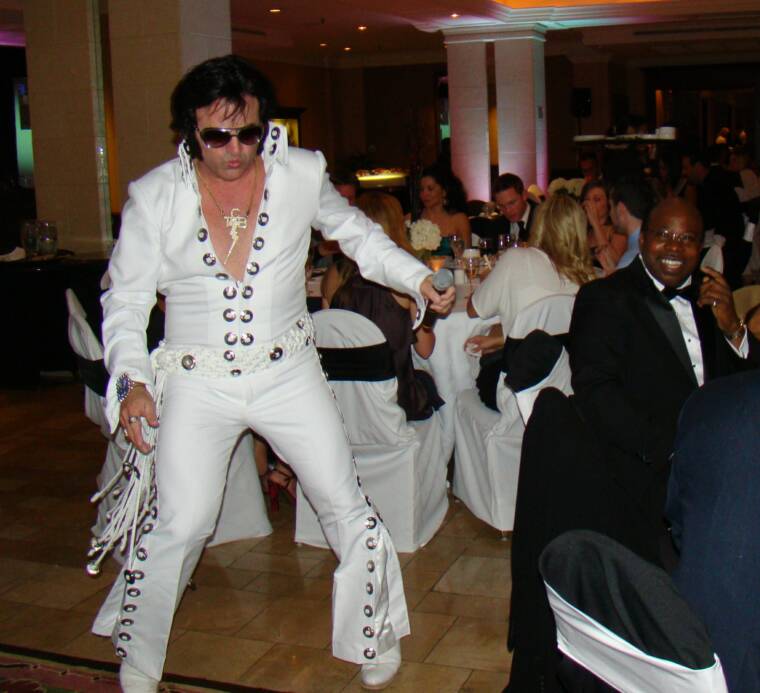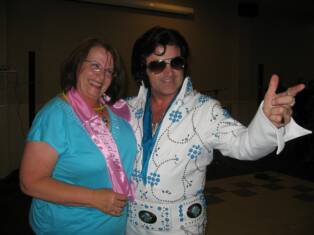 Suits in Construction and Coming Soon!!!

Suit #14

This performance suit "The American Trilogy" Designed by Elvis Impersonator Rick Torres. This suit is fashion from the Rope fringe suit #4 in my suit options and will resonate the spirit of America in Red white and blue! Premiered on the August 6th 2011 at Hot August Nights at Pezzellas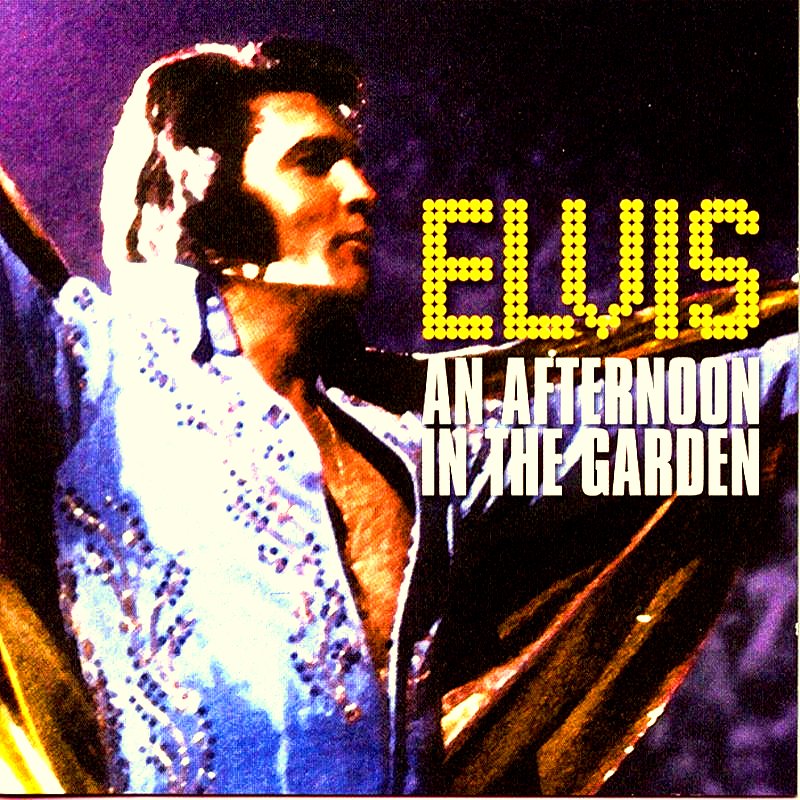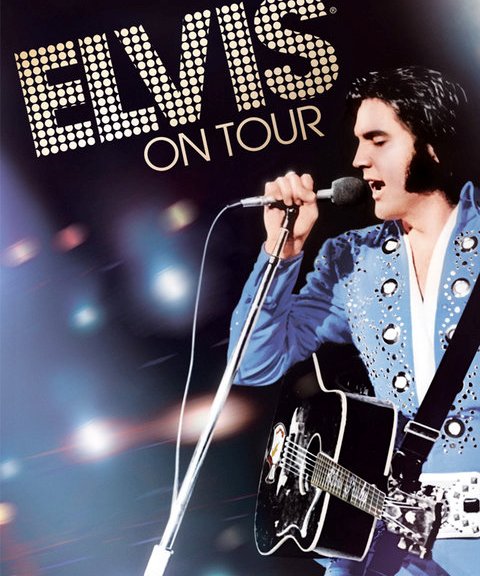 Suit #15

"Powder Blue"  This suit was worn by Elvis in many concerts. As an example it was first worn at his first concert in Buffalo, New York on April 5th 1972  "Elvis Live at the Madison Square Garden" and the documentary "Elvis on Tour" The powder Blue or Blue Nail suit is a light jumpsuit with white kick pleats and portholes down the front.

Suit #16

"The Blue Hawaii Suit" This look is Inspired by the picture "Blue Hawaii" released in 1961. This is a fun look for your Hawaiian Elvis Luau party. There are also a nice collection of Hawaiian songs to choose from that you can see here at the bottom of the page
www.kingcreoleentertainment.net/songs.html
. Great songs from the movie Blue Hawaii and other classic traditional Hawaiian Songs.